On a successful trajectory for decades
Since its founding in 1919, Bernhardt & Schulte GmbH & Co. KG has been a family-owned and operated company.
B&S is an innovative and dynamic company that specializes in the development and production of high-quality products in the plastics industry.
We place a strong emphasis on quality, customer satisfaction, and continuous development. Through our long-standing experience and modern production methods, we are able to offer a wide range of products and services to our customers.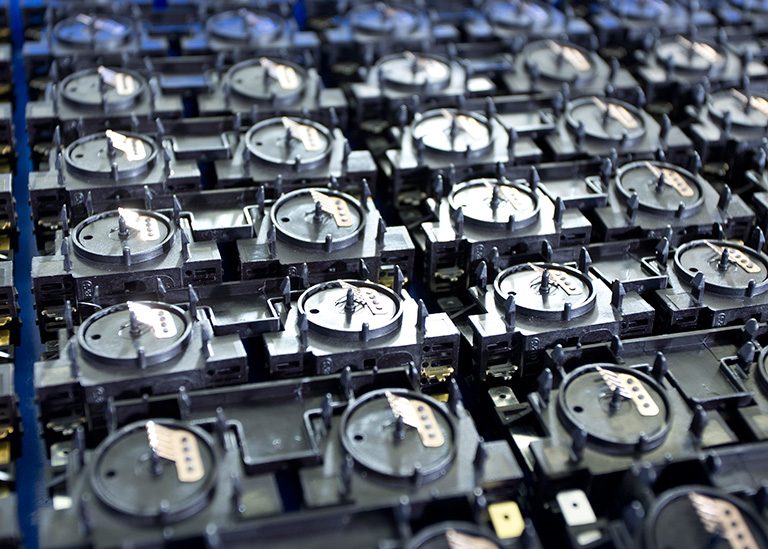 Ready for any customer request
Switch construction has been the focus of our work from the outset.
The resulting range of manufacturing activities enables us to respond to changes in the market with the latest production processes.
Whether the production of appliance switches for household appliances, switches with up to 26 contact lines or customer-specific components, we have an individual solution for every wish.
Technical plastic molded parts
Plastic injection molding
We process both thermosets and thermoplastic materials,
to produce high-quality and precise, technical plastic molded parts.
We work closely with our customers to meet their requirements and expectations, and to ensure that the final products meet their standards.
Whether it's simple or complex parts, we have the experience and capabilities to meet your requirements.
We develop, design and manufacture the tools required in the highest quality in our own tool manufacture
We offer our customers a wide range of different injection molds, such as thermoset tools, thermoplastic tools, slider/jaw tools, injection stamping tools or tools for inserts.
Our own tooling production gives us full control over quality and schedule, allowing us to respond flexibly to our customers requirements.